SPECIALS
Sunday the 19th of May

Sunday the 19th of May Cream of Coconut and Vegetable Soup.  €5.25 Guinness sausage ciabatta (until 5 pm) Chargrilled Guinness and Leek sausage Ciabatta with sauteed onions, apple mustard and served with a choice of salad, soup or fries. €11.95 Panfried cod  Panfried cod served with a chorizo, pepper and pearl onion sauce and a choice of two accompaniments. €17.95 Tonight we have live traditional Irish music with Shanragh band starting from 6.30pm.   
Entertainment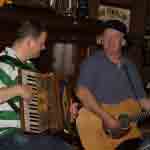 All Summer we have live music from Mick Leech (guitar / vocals), Ger Maloney (piano accordion) & David Cashin (guitar, mandolin, vocals) back in the Whiskey Bar Monday to Thursday from 6 pm with all your favourites, requests and some guest stars!