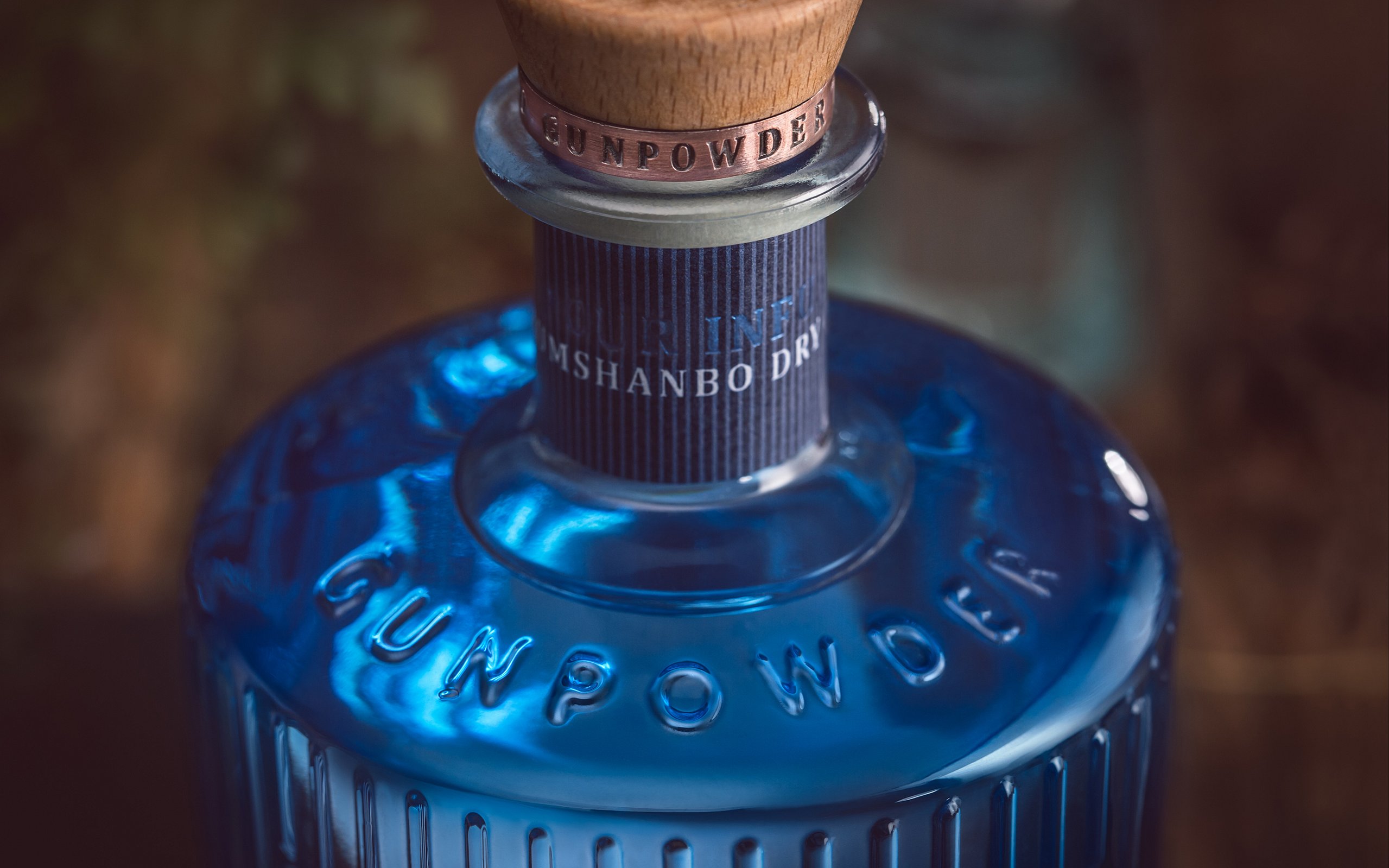 House infused Gunpowder Gin
A hand-crafted gin made in the Shed Distillery, Drumshanbo, Co Leitrim.
It takes a long and rigorous process with ingredients from all over the world to get this months gin of the month from field to your mouth, so we decided to give you a brief insight into
the process from distillation to our own infusion to your perfect serve only over our bar and only for this month!
The process begins with an array of ingredients assembled by the curious mind of PJ Rigney.
Gunpowder Tea, Chinese Lemon, Oriental Grapefruit and Kaffir Lime are added into the 3 layer infusion basket, which lies in the vapour pathway between
the still and the condenser. Steam is gently applied. The vapour rises through the unique shape of the medieval head, which allows maximum copper contact, which cleans and purifies the spirit.
The vapour exits the still and passes into the infusion basket, where it gently extracts the oils and aromas from the citrus and tea. Boiling in the still would extract bitter compounds
from these ingredients, whereas vapour infusion only extracts the aromatic oils.
The vapour passes into the condenser and is condensed down into the gin at @ 75%. An early cut is taken so as to avoid any harshness that tends to come off further into the distillation.
The gin is allowed to rest for a week, which allows the oils and alcohol to infuse and for the flavour to develop. It is then diluted to 43% with filtered water and gently filtered for clarity.
The bottles are filled, labelled and packed by hand within 'The Shed Distillery'
Then the Gin gets to us in Paris Texas already a fabulous product we endeavoured to put our stamp on it for a limited run Gin of The Month.
We pass the gin through our house infusion tower filled with watermelon, pineapple and rose petals.

This is then filtered once one for purity and rebottled ready to serve.
Once you order one it will be served over ice with an orange garnish and Schweppes elderflower tonic water giving you a fresh, fruity and summery Gin and tonic to die for or I guess you could try to do all that yourself?
Our Rose petals were kindly supplied by Rosepetals.ie
Book online with:

Please note, on bank holiday and festival weekends we accept walk-ins only. This means we can seat almost everyone who comes to our door and we can avoid disappointment.